Training Opportunities at LE Facilities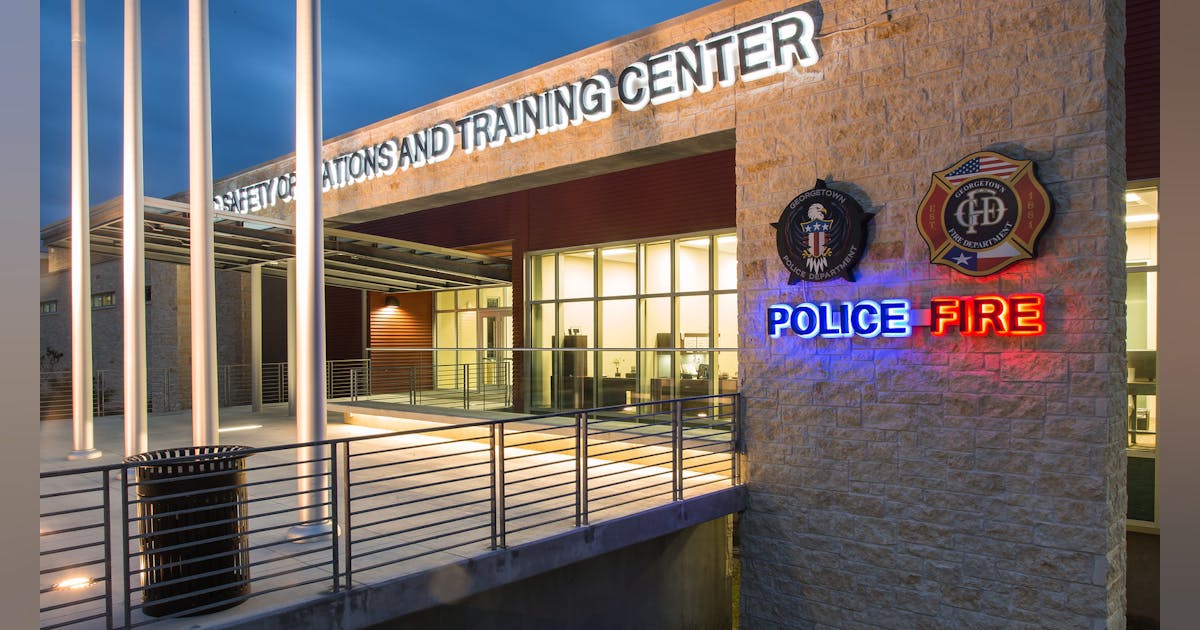 When constructing a new facility, whether solely for law enforcement or a common public safety facility, many factors must be considered. From the security of the building to its reception for the public, there are many things that go into the planning phase, but what about the functionality of the project as a training opportunity?
Wayne Nero is the retired police chief of Georgetown, Texas, and currently serves as deputy city manager for the locality which is home to a population of over 80,000. When he took over as chief in 2010, one of his first major tasks was to initiate the planning process for a new public security operations and training complex, which is shared with the administration. of the city fire department.
---
This article originally appeared in the July issue of OFFICER Magazine. Click here to see the digital edition. Click here to subscribe to OFFICER Magazine.
---
"Not only did we need space, but the theme became training," he says, noting that the town's population has nearly doubled since he took over as chief. "We knew we were going to grow fast, those were all projections, and we had to train competent people."
Nero spoke during a session at Station Design Conference 2022 in and was joined by Sami Gerwick with Architects Design Group. Phase I of the project was completed in 2015 and phase II is expected to be completed next year.
The importance of training

Nero pointed out that many of the issues officers face can often be related to training. He pointed to a culture of speed in law enforcement, assaults on officers, poor eating habits, a lack of exercise and the need to focus on mental health. "We lose officers in these four areas every year and in my three decades of work, do these numbers ever change? Let's be honest," he said. "We don't do enough in the area of ​​training. We do a lot of auditing in our profession. There are a lot of things that work against us when we check the box rather than training for skills. »
In the state of Texas, there are 720 hours of mandatory training in the academy and an additional 40 hours of continuing education every two years. "If that's all you do – 40 hours of training every two years – if that's all you do, how competent will your officers be? he says.
When Nero arrived in Georgetown, the department completed approximately 48 hours of officer training per year. Over the past decade, these numbers have increased exponentially. Prior to COVID, officers were undergoing approximately 190 hours of training each per year. Last year, that number was around 175 hours. As chief, he also gave his staff one hour per shift to practice in his schedule.
---
Entries are currently being accepted for the 2022 Officer Law Enforcement Position Design Awards
---
Nero emphasized that the department is focused on full-spectrum training. "It's everything from how we talk to people, to how we get our hands on people, to how we direct guns." He says that when interacting with the community, it's important to be able to tell your agency's story through training and to be able to explain things like accreditation. By meeting members of the community who held negative views of the police department, Nero was able to connect with them and was able to convert them into advocates rather than adversaries.
Training work in plan

Gerwick says training is only as important to a plan as the agency and the company are. "Right from the start, we need to incorporate these programs into the space needs assessment," he says. "We have to recognize the importance of training. This isn't just a list of spaces you want to include in your building. It is a set of goals and aspirations towards which your service is moving. »
Law enforcement must communicate the benefits of an on-site training center to elected officials who hold the keys to funding. By providing onsite training, officers are not required to travel outside the county, sometimes hours away, for training, spending money on gas and hotels. Another advantage is the possibility of renting the training center to other jurisdictions.
"If you have a 20,000 square foot training program in your space requirements, it could cost $8 million or $10 million. Elected officials will say, "We don't have that in the budget. You will have to choose between your day-to-day operations and a training center," says Gerwick. "Training is important. We want to keep training in the program. We want to make sure everyone understands the importance of this, and it will be in the building one way or another.
Law enforcement agencies also need to weigh all the options when it comes to the location of their training program and choose the one that's right for them. In the case of Georgetown, he chose to include on-site space for a separate training facility.
"This facility doesn't have to meet the same rigorous design criteria as the police department does," says Gerwick. "That other building might just be a concrete box. It doesn't face the street and doesn't need to be so pretty.
Another option is to build the training program into the plan, rather than creating it right away and rolling it into the next budget cycle. He also pointed out that the spaces should be flexible and that different solutions can be added later. This includes driving and training simulators and even live firing ranges.
The final result

The Georgetown Public Safety Operations and Training Complex consists of 106,353 square feet, was designed to withstand estimated F3 tornado forces, and was designed to meet future needs through 2030.
The complex includes a 76,831 square foot main building containing administrative offices for the entire police and fire administration, community hall, training rooms, communications center, physical agility room , a cloakroom, a rest room and a kitchen. The building also includes a chemical processing lab, a crime scene investigation lab, an evidence processing lab, and two vehicle evidence processing bays.
The 18,672 square foot tactical training center features a flexible training area with reconfigurable walls for reality-based training, cross-fit box, video production room with green screen, storage space and office, a covered outdoor classroom and rolling asset storage. The site also includes a 1/3 mile slow-speed EVOC track with a skid pad, a 125-foot-tall communications tower, obstacle course, and on-site power plant.
"We use it more than you can imagine," Nero says of the training center. "It's like a fire tower for firefighters. If you have it in your garden, you will use it all the time. If you don't have one, you'll be paying to use someone else's a fraction of the time.
A 10,850 square foot indoor/outdoor hybrid shooting range was included in the original master plan as Phase II and is expected to complete construction in 2023.
When it comes to presenting a similar plan to city stakeholders, Gerwick says partnering with other agencies — like Georgetown has — can open doors. "It becomes a public safety training center and not just a police training center," he says. "Some connotations change in this perception and can benefit you."
This article originally appeared in the July issue of OFFICER Magazine.