Shining a light on mental health support services in football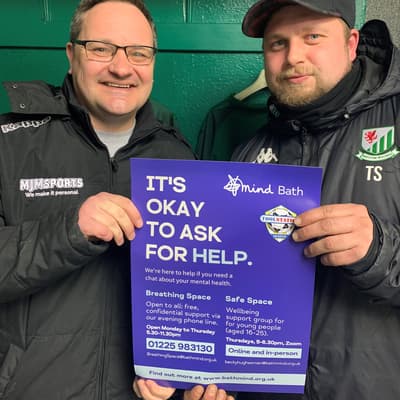 Bath Mind created bespoke posters promoting their mental health services, which the six West League teams based in Bath and North East Somerset displayed in their home and away dressing rooms. outside.
WHL chairman John Pool said: "Many people are still going through the loneliness and anxiety caused by lockdown and we must remember that our players are no different. They are just as important. for us than any member of our football family and this important partnership with Bath Mind is our way of supporting them.
In addition to the dressing room posters, Bath Mind provided flyers and program announcements for fans, highlighting the variety of support services available to them.
Hannah Roper, Business Development Manager at Bath Mind, said: "At Bath Mind, we are delighted to be working in partnership with the Toolstation Western League, to support and promote positive mental health for the football community…Through this project pilot, we hope to encourage everyone to talk about their mental health, seek help early, and reduce the stigma associated with poor mental health.
As well as regular bucket collections at games over the past few months, the West League held a successful charity day at Odd Down in April which raised over £500 for Bath Mind. In total, the Bath Mind Toolsstation Western League partnership raised over £1,200.
Ian Nockolds, Head of Communications for Toolstation Western League, added: "The non-league community is proud to be a football family, which is why the support services offered by organizations like Bath Mind are such a big part of it. important to ensure the safety and well-being of this family. ."
Following this successful pilot partnership, the Toolstation Western League plans to roll out this campaign to all of its forty member clubs, starting with similar initiatives in Somerset and Wiltshire.